It seems to many that Jeremy has lived more than one life. He has been a farmer, a Navy Man,  ship's engineer and of course an artist.  He lives on the Sausalito waterfront, where he paints what he sees, "anything I can find lying around the waterfront." His paintings show images from Jeremy's travels as well as his imagination: idyllic beaches, verdant forests, plains traversed by roaring steam engines. What each piece has in common, however, is a sense of tranquility, a feeling that, as Jeremy observes, "everything is well in the world."
You cannot add "Ship Clock" to the cart because the product is out of stock.
Showing all 6 results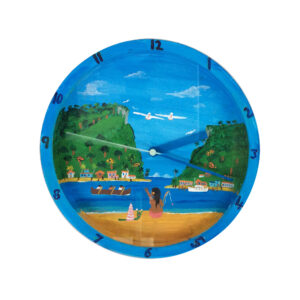 Quick View
What time is it.... time for for fishing! Acrylic on a working clock.  8.75" x 8.75" x 2"