Sue began her series of botanical paintings in 2005. She had been exclusively painting urban landscapes for several years and wanted to begin experimenting with her technique. The flowing lines of flowers and the clear vase shapes seemed the perfect subjects to figure out how to make new painting marks.
Showing 13–19 of 19 results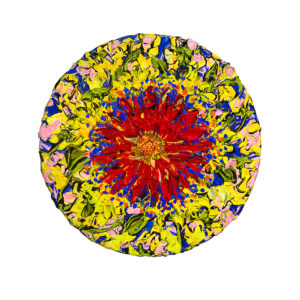 Quick View
This painting almost vibrates with color. The red center represents power in the artists mind. Place this piece near your doorway to the world outside as a reminder you have the power to face anything that comes your way. 18" x 18" x 2" Acrylic & polymers on custom made, round wood panel. The piece has a spacer on the back so that it floats off the wall.
Showing 13–19 of 19 results