Sue Averell's art is heavily textured. Since 1997 she has been developing her layering technique using acrylic pigments and polymers. Another aspect of Sue's work is her use of metallic colors, often mixing them with flat color to add an iridescent look to the subject. Some of the layers are poured. Often the color spills over the edge of the canvas creating beautiful color patterns. Sue's work is ready to hang without a frame.
Showing 13–24 of 48 results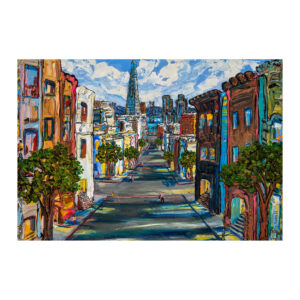 Quick View
This is one of Sue's classic compositions. You can almost feel the warm afternoon sun on your back as you walk down the San Francisco street. Acrylic and polymers on custom made stretched canvas.
Showing 13–24 of 48 results